Dental Checkups & Cleanings – Lakewood, Dallas, TX
Prevent Oral Health Problems From Beginning
Even if you scrub and floss your smile every day, there's only so much that your toothbrush can do alone. If you want to effectively avoid complications like cavities and toothaches, then you'll want to schedule dental checkups and cleanings with your dentist in Lakewood, Dallas, TX. These visits should be scheduled at least every six months, which will allow our team to help monitor your oral health for any underlying issues as well as maintain a bright set of pearly whites! If you have dental insurance, your policy is likely to cover most of the treatment as well. Keep reading or give us a call today to learn more about dental checkups and cleanings.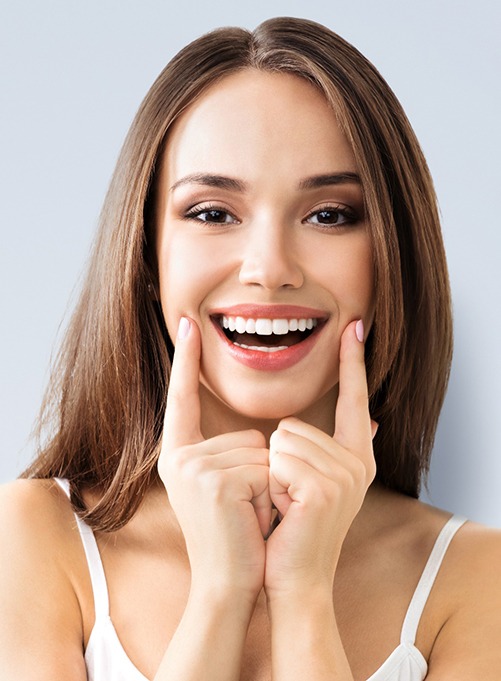 Why Choose Dental Center of Lakewood for Dental Checkups & Cleanings?
Highly-Trained & Experienced Dentists
Accepts Insurance & Alternative Financing
Expert, Committed, & Caring Dental Team
Why Are Regular Dental Checkups & Cleanings Important?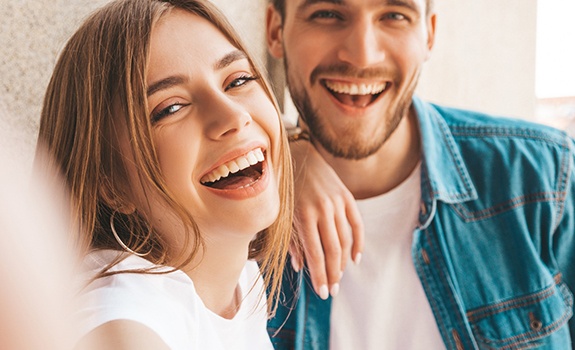 Even if you think your teeth feel or look great, there can sometimes be developing issues that aren't visible. By visiting your dentist for checkups and cleanings, your appointments will typically serve three purposes:
Avoid troublesome & costly future problems – Many oral health issues grow and worsen without even being noticed until you start to experience discomfort or complications. With regular dental visits, our team can detect these problems and address them before they cause you pain or become expensive to treat.
Detect systemic health concerns early on – Over 90% of systemic health problems show indications in the mouth. During your checkups and cleanings, we can evaluate your mouth for warning symptoms of serious issues like diabetes, acid reflux, oral cancer, heart disease, and more.
Maintain a bright & healthy smile – Though brushing your teeth every day helps to keep them bright and shiny, your dentist will be able to remove stubborn stains that you can't do on your own.
What to Expect During a Dental Checkup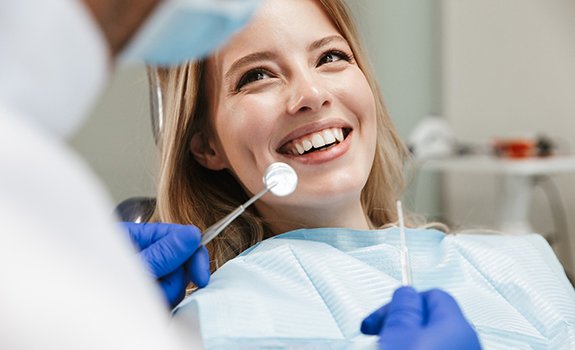 Your dental checkup should typically begin with a discussion with your dentist about your smile goals and any concerns you might have. They'll then assess your mouth, teeth, gums, and tongue, checking for signs of developing problems. We may also take X-rays to check the condition of your roots and jawbone. You'll also undergo a thorough oral cancer screening.
Once they're finished, your dentist will review their findings and walk you through any issues they may have found as well as treatment options for you to consider. Together, you'll create a personalized plan for addressing any problems so you can enjoy good oral health again. This may involve follow-up appointments for fillings or crowns, or simply providing tips for improving your oral hygiene at home.
What to Expect During a Dental Cleaning
The last portion of your dental visit is designated for teeth cleaning. One of our hygienists will use specialized tools to get rid of any plaque and tartar that's accumulated around your smile. Our team will then use professional-grade polishing paste to remove any lingering particles from the surface of your teeth, including stubborn stains. On top of making your smile much shinier, this will also lower your risk of oral health problems in the long run.