Orthodontics – Lakewood, Dallas, TX
Come Get the Straight Smile You Deserve
A smile filled with misaligned or gapped teeth cannot only cause someone to feel self-conscious, but it may also make them more vulnerable to a wide array of dental issues, including cavities, gum disease, and excess wear and tear. Thankfully, we can prevent and fix all of these problems while giving someone a perfectly straight smile using our orthodontic services. With metal braces and Invisalign available under one roof, we're guaranteed to have what you need, and we'll make your journey towards a new smile as smooth and easy as possible. To get started with orthodontics in Lakewood, Dallas, TX, contact us today.
Why Choose Dental Center of Lakewood for Orthodontics?
Invisalign: The Most Discreet Orthodontic Solution Available
Team with Decades of Experience Straightening Smiles
Dental Insurance Accepted, Financing Available
Traditional Orthodontics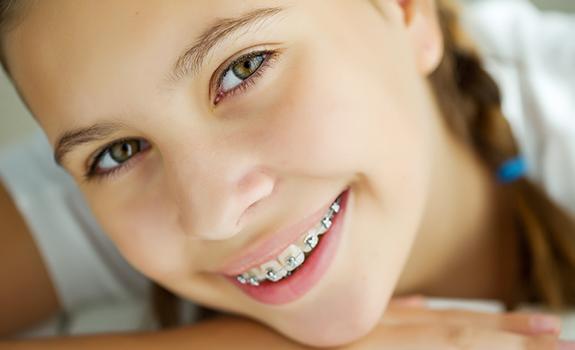 When it comes to fixing crooked teeth and bites, traditional metal braces are the most reliable, durable, and affordable option. They still use brackets and wires to shift the teeth, but thankfully, they have undergone a cosmetic makeover since you were a child. Now, the brackets are smaller and the wires are thinner, giving the appliance a much more subtle appearance that allows a patient to smile with confidence throughout treatment.
Invisalign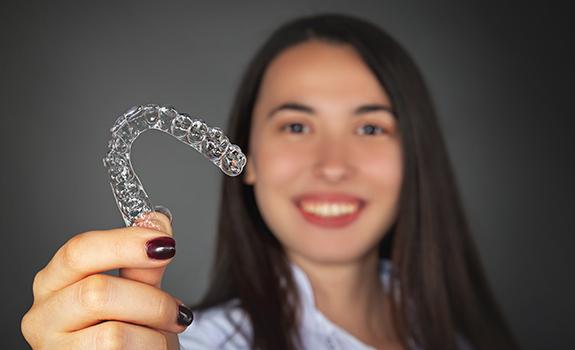 With Invisalign, a patient can straighten their teeth without their friends or coworkers ever noticing that they are undergoing treatment. Completely see-through aligners are used to close gaps and line up the teeth, meaning a patient doesn't have to sacrifice their daily appearance like with braces. Even better, Invisalign is removable, so a patient can take out their trays whenever they need to eat or brush their teeth.
Invisalign FAQs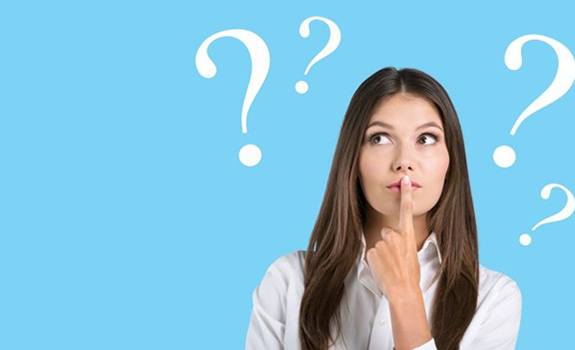 Invisalign in Lakewood is a truly unique way to comfortably and conveniently straighten your teeth, so it's completely natural to have a few questions about it. That's why we've gathered a few of the most common inquiries we get about this revolutionary orthodontic treatment below. If you don't see the answer you're looking for, don't hesitate to call us and we'll be more than happy to help!
Will Wearing Invisalign Aligners Hurt?
Traditional metal braces are notorious for their sharp wires and brackets that painfully rasp against the soft tissues in your mouth. In comparison, Invisalign aligners are crafted from a single piece of smooth, biocompatible plastic that glides comfortably over your tongue and the inside of your cheeks. When first wearing a new set of aligners, you'll likely feel some soreness. However, any discomfort should disappear on its own relatively quickly. You can also alleviate your symptoms by taking over-the-counter pain relievers as directed or applying an ice pack. Many patients find it helpful to start a new set of aligners right before bed, which allows them to sleep through any initial discomfort.
Do I Have to Avoid Certain Foods During My Invisalign Treatment?
One of the most popular benefits of Invisalign aligners is their removable nature. This unique feature allows you to continue enjoying all your favorite foods, including items that would damage traditional braces. Simply take out your aligners and store them safely in their case, enjoy your meal, then give your teeth a quick brush before putting them back in! It's very important that you brush away any lingering particles before you replace your aligners, otherwise they discolor them and increase your risk of cavities. Additionally, it's not advised to store your aligners in a napkin when you take them out to eat—you could easily throw them away by accident!
Will Invisalign Aligners Change How I Talk?
In the initial stages of your Invisalign treatment, it may sound like you have a slight lisp when you speak. To make certain sounds, your tongue is placed against the back of your teeth. Since these areas are now covered by your aligners, your tongue needs a little bit of time to adapt. Typically, it only takes about a week or so to regain your normal speaking patterns. If you want to speed up the process, try talking aloud and repeating words like "sixty" and "Mississippi."
Can I Get Invisalign If I've Had Metal Braces in the Past?
Many people who had traditional braces in childhood find that their teeth shift out of place years later, especially if they neglect to wear their retainers. Thankfully, Invisalign is an excellent choice for nearly anyone who wants a straighter smile, including those who've had traditional braces in the past in most cases. During your Invisalign consultation, your Lakewood dentist will carefully inspect your teeth, jaw, and bite to determine the most effective way to correct your misaligned teeth.
Are you ready to get the smile you've always wanted, without the metal braces? Call us to schedule your consultation today and start your journey towards your ideal set of pearly whites!