Meet Your Friendly Dental Team – Lakewood, Dallas, TX
Not Your Typical Dental Team
We can confidently say that we have the best dental team in Dallas, and we look forward to proving this to you at each appointment! Our staff will always greet you with a smile, check you in quickly, have answers to all of your questions, and generally make sure that you and your loved ones feel right at home. Your visits will seem to glide by and be over in minutes thanks to them! You can start getting to know our wonderful team by reading on below.
Kelli, Office Manager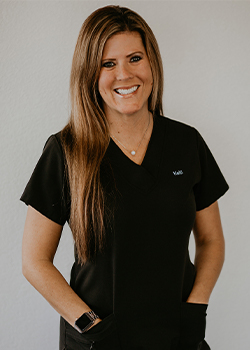 Originally from Wylie, Kelli has been working in the oral healthcare field for over 20 years now. As our dedicated dental office manager, she loves being able to help our patients laugh and have a good time during their visits!
Away from the dental office, Kelli has two grown daughters and is the proud dog mom of Mindy Lou. She works part-time at a local winery and really enjoys cooking and cleaning.
Rosalinda, Dental Hygienist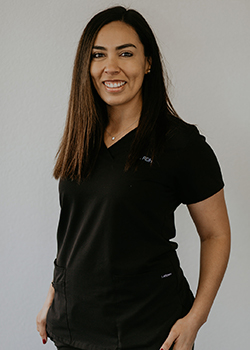 Rosalinda studied dental hygiene at Baylor College of Dentistry and has been working in the field for nearly 15 years. Today, she goes above and beyond to educate our patients about the lifelong importance of oral health.
A Dallas native, Rosalinda has five sisters and one brother. When she isn't busy caring for teeth, her favorite hobbies include trying new restaurants, cooking new recipes, and exploring different types of food – she's definitely not a picky eater! She also likes designing and painting with acrylic.
Crystal, Dental Hygienist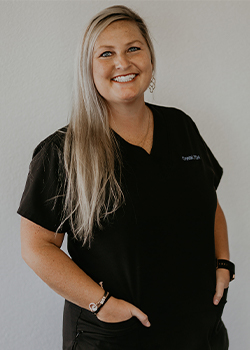 Crystal's dental career spans close to 15 years, with most of that time spent right here in our dental office. After studying at Texas A&M and Baylor College, she attended the Caruth School of Dental Hygiene. As one of our hygienists, what she enjoys most about her role is building relationships with patients over time. Earning their trust is so rewarding!
Crystal has wonderful parents, two older sisters, and wonderful nieces and nephews. She is still waiting to start her own family soon. As for personal hobbies, she really enjoys traveling, being outside, doing anything involving water, playing sand volleyball, drinking wine, helping out with the children's ministry, working out, and making good memories with loved ones. Hallmark Christmas movies are her fave!
Carrie, Dental Hygienist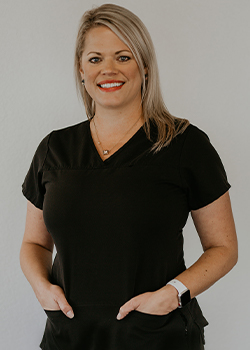 Carrie has been a part of the oral healthcare field for nearly two full decades, and she feels so proud to work with such incredible patients and team members. She studied dental hygiene at Baylor College of Dentistry and is certified in laser dentistry.
Carrie was actually raised on a ranch, so she gained plenty of experience with animals and "ranch life" duties before moving away to the big city. Today, she and her husband John have a blended family with four children named Finn, Victor, Will, and Griff. Away from the dental office, she spends her free time watching the boys play baseball, traveling, boating, skiing, sewing, drinking wine, and cooking with her husband.
Leslie, Dental Assistant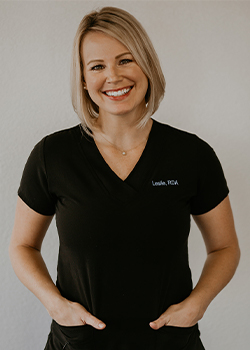 Leslie has been a part of our dental family for over 15 years now, and she still learns something new every day! She feels so grateful to work alongside such a great team, boss, and group of patients. As for her education, she studied dental assisting in Irving and is an RDA.
Born and raised in Dallas, Leslie spends virtually all of her free time with her daughter. She also really enjoys being outdoors when she isn't busy at the dental office.