Root Canal Therapy – Lakewood, Dallas, TX
For Toothaches That Can't Wait!
Sometimes, a person might experience a little dental pain due to minor temperature sensitivity, and this usually passes after a few moments. However, for a toothache that is severe, lingering, and only getting worse, that's when someone might need to seek out root canal therapy. With this procedure, our team is able to stop the worst dental pain, save distressed teeth, and help people get back to their lives with one less thing to worry about. If you're stuck at home with a throbbing tooth right now, give us a call today to start getting the relief you deserve with root canal therapy in Lakewood, Dallas, TX!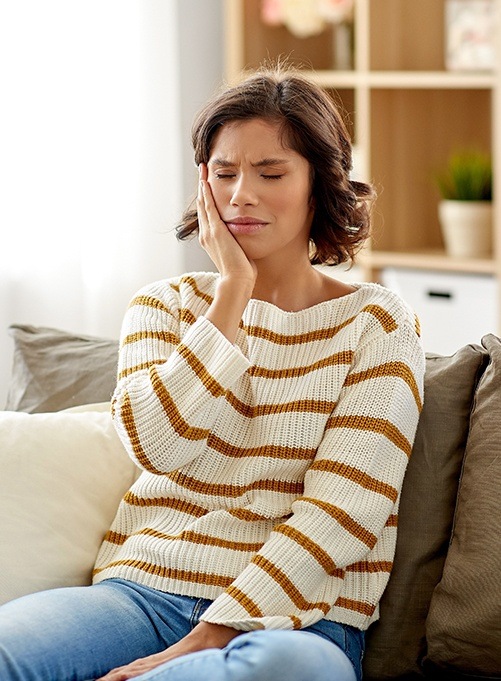 Why Choose Dental Center of Lakewood for Root Canal Therapy?
Same-Day Emergency Appointments Available
Sedation Options Available for Nervous Patients
Highly Experienced Team That Listens to Every Patient
Do I Need Root Canal Therapy?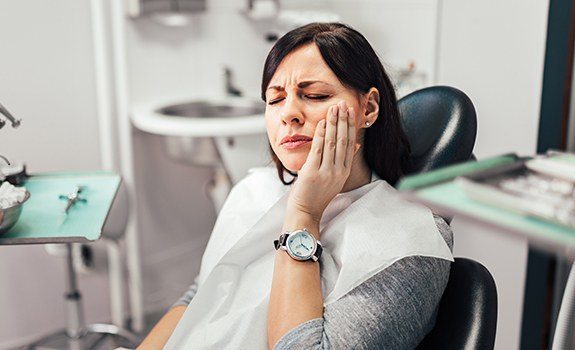 If bacteria are able to reach the interior part of a tooth, they can infect tissue known as the dental pulp. This can cause the pulp to swell and even die, creating a lot of pressure that is often the source of the worst toothaches. Thankfully, root canal therapy allows our team to remove this pulp and restore the tooth so that it will look, feel, and function like normal for many years to come. Here are some common signs that could indicate that you could benefit from root canal therapy:
Toothache or other severe dental pain
Extremely sensitive tooth
Discolored tooth
Swollen and tender gum tissue
A pimple-like bump on your gums
The Root Canal Process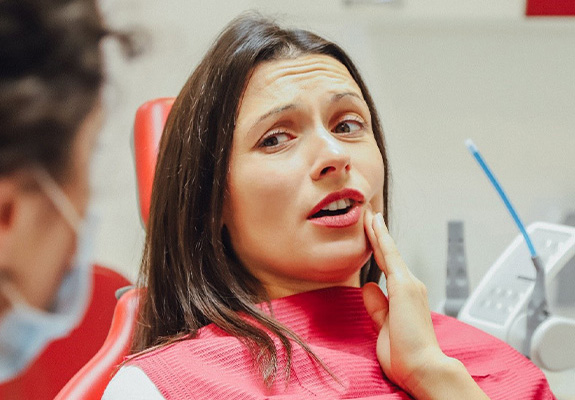 Root canal therapy is used to alleviate discomfort and save teeth from damage. First, you will be administered a local anesthetic to ensure that you are comfortable throughout the duration of your treatment. Next, a small hole is made in your enamel in order to remove all the infected and damaged tissues from the inside of the tooth. Afterward, we will clean and sanitize the tooth to ensure that it is completely free from bacteria. The tooth will then be filled with a biocompatible material, and a dental crown is often placed over it to protect it from further damage.
The Benefits of Getting a Root Canal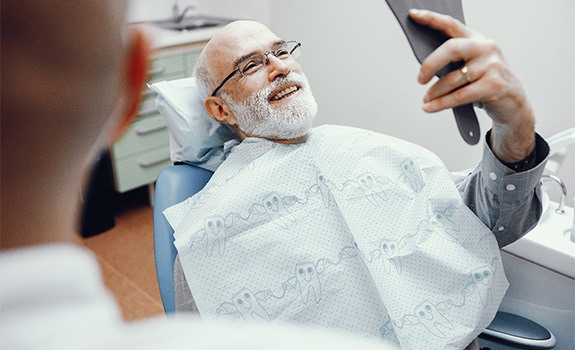 Root canal therapy is a safe way to prevent future dental issues. Here are some of the numerous benefits:
Preserves the tooth: When compared to tooth extractions, opting for root canal therapy can save you a lot of time, money, and complications.
Stop harmful bacteria: Root canal therapy effectively clears away harmful bacteria that are causing you pain and discomfort.
Painless treatment: It may have a bad reputation, but root canal therapy is actually virtually pain-free! It's about as comfortable as getting a standard filling and requires much less healing time than an extraction.
Understanding the Cost of Root Canals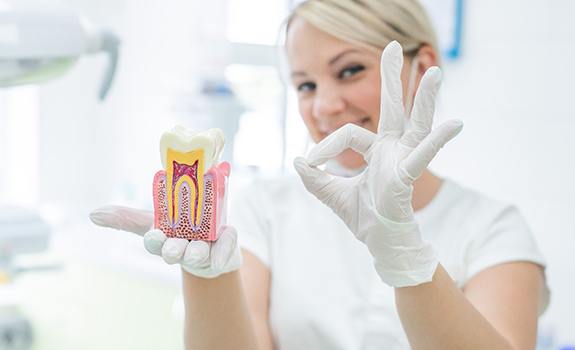 If you've been informed that you require a root canal, then you're probably wondering what to expect from the procedure. One of the main things you'll likely want to know is how much the overall cost of your treatment will be. After all, you'd want to preserve your dental health without having to break the bank. The best way to get an accurate price estimate is to schedule a consultation with our team at Dental Center of Lakewood. While you wait to see us, here are several factors to think about to help you understand what to expect from the cost of root canal therapy in Dallas!
Factors That Can Affect Root Canal Cost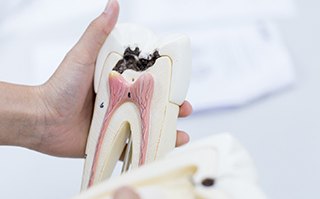 The price of a root canal can vary greatly due to several key factors. During your visit, we will have to examine your affected tooth or teeth to determine which aspects will impact the overall price of your procedure, including:
The complexity of your case: You may have to pay more for your treatment depending on how difficult your root canal procedure is. In some cases, patients may require the help of a specialist, which can add to the cost.
Location of the tooth/teeth: Back molars are typically more expensive to treat, as they have more roots compared to your front teeth.
Additional treatments: After you get a root canal, you'll likely need to receive additional procedures, such as dental crowns to protect and strengthen the treated tooth.
Is It Cheaper to Pull My Tooth?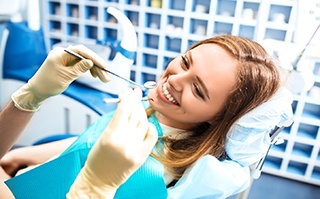 While it's tempting to skip root canal therapy and undergo a tooth extraction instead, there are several essential factors you'll need to consider. Firstly, missing a tooth can have long-term effects on your entire oral health, such as bite misalignment, jawbone deterioration, further tooth loss, and an increased risk of infection. To avoid these complications, you'll need to close the gap(s) in your smile with restorative treatments like dental bridges or dentures, which are much more expensive than a root canal in the long run! By saving your tooth/teeth with root canal therapy, you can save time and money while preserving your natural smile.
Does Dental Insurance Cover Root Canal Therapy?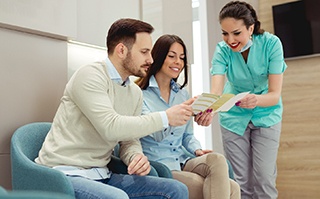 Many dental insurance companies offer coverage for root canal therapy since it's considered an essential restorative procedure. Depending on your plan, you can have 50-80% of the cost of your treatment covered after you've met your annual deductible. Since every policy is different, it's a good idea to speak with your insurance provider about the details of your benefits. You can also contact our knowledgeable team during this process, and we'll be more than happy to help you make your procedure as manageable as possible.
Other Options for Making Root Canal Therapy Affordable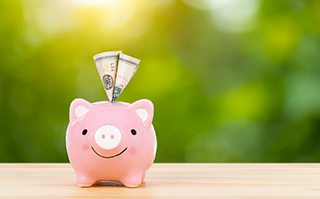 Even if you don't have insurance, we offer alternative financing options to make your root canal more convenient for you and your wallet. Our team is partnered with CareCredit—a third-party financier that can help split up the overall cost of your treatment into small monthly installments. Many of their plans also come with little-to-no interest, meaning you can receive root canal therapy and preserve your natural pearly whites without having to empty your pockets. Feel free to speak with us if you're interested in this option, and we'll be glad to help!
Root Canal FAQs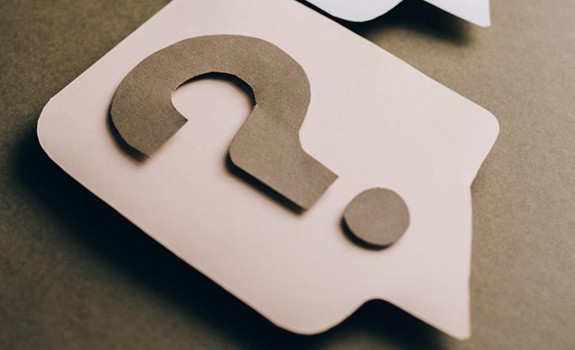 If you need a root canal in Dallas, don't panic! We know you have several concerns, but root canal therapy isn't as bad as you might have heard. Despite the rumors, you won't feel anything during the procedure. Your dentist will take the time to explain everything during your consultation. While you wait for your appointment , here are the answers to the most frequently asked questions to calm your nerves.
How long does it take to recover from a root canal?
Every situation differs, but most patients can resume their regular activities on the same day as their root canal. However, if you have a labor-intensive job, your dentist in Dallas may recommend taking a day or two off from work. Vigorous exercise can delay healing because it diverts blood from the treatment site. It's normal for your mouth to be sore for a few days, but you can take an OTC pain reliever to manage your discomfort. Your dentist will recommend eating softer foods for a few days, and chewing on the opposite side of your mouth until your discomfort subsides. Continue to brush and floss your teeth, but be gentle around the treated tooth. If your pain worsens or doesn't improve within 3 days, contact our office right away.
How much pain is normal after a root canal?
Your comfort is your dentist's top priority during your procedure. They'll use a local numbing agent or sedative so your root canal will be pain free. After the effects of any numbing agents dissipate, you can expect temporary soreness and mild sensitivity. Following your dentist's aftercare instructions, like eating softer foods and taking OTC pain relievers, will prevent your discomfort from worsening.
How long does root canal therapy take?
Every case is unique, but most root canals can be performed in a single appointment, but complex cases may require more than one visit. It takes 30 to 90 minutes to complete the procedure, depending on the location of the tooth. Molars can have more root canals that need to be cleaned and disinfected. Typically, the further back in the mouth you go, the longer the procedure will take.
Will I need antibiotics before or after my root canal?
Most patients don't require antibiotics before or after getting a root canal. However, if you have a health condition that increases your risk of infections, you may be prescribed antibiotics. Your dentist will review your medical history during your consultation to determine if they are necessary.
What happens if I wait too long to have a root canal?
Ignoring an infected tooth won't make it go away. Instead, the infection will continue until it may be too late to save your tooth. You'll need to have it removed and replaced with a prosthetic, which can get costly over the years. Not to mention, the infection can spread to your bloodstream, which can cause systemic illness and other complications. It may even spread to surrounding teeth, putting them at risk of needing to be removed.