Veneers – Lakewood, Dallas, TX
Say Goodbye to Chips, Cracks, Stains, and More
Do you hide your smile in photos? Do you cover your mouth when you laugh or talk? If you're embarrassed by your damaged, discolored, or gapped teeth, you may find it more difficult to fully enjoy your favorite things in life. At Dental Center of Lakewood, we want to help you achieve a smile you can't wait to show off with veneers! This quick and easy treatment is the perfect solution for correcting numerous different dental flaws at once. If you're ready to say goodbye to chips, cracks, stains, and more, give us a call today and schedule a consultation with your Lakewood cosmetic dentist.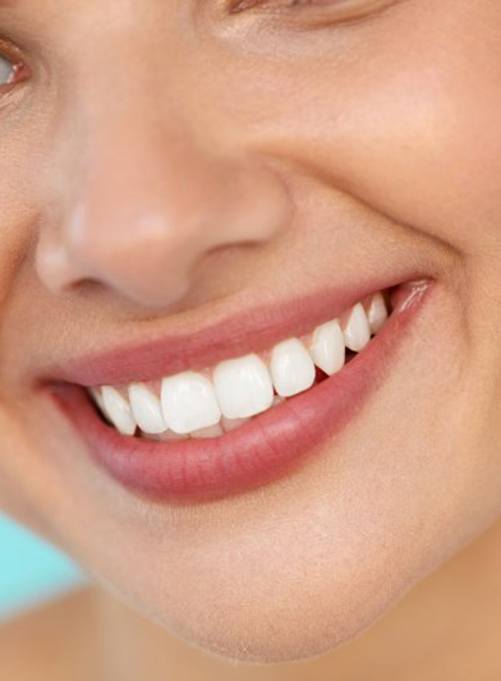 Why Choose Dental Center of Lakewood For Veneers?
Personalized Treatment for Your Unique Smile
Friendly and Experienced Dental Team
High-Quality Materials for Beautiful, Lasting Results
What Are Veneers?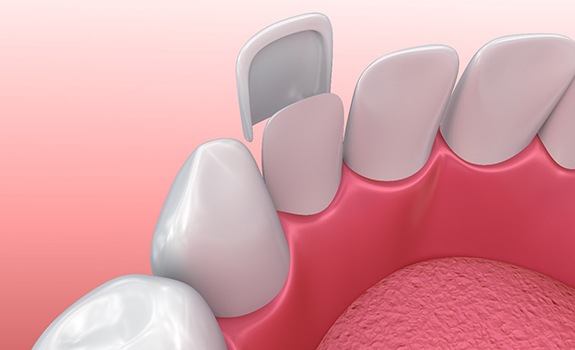 Veneers are tooth-shaped shells of dental porcelain that are about as thick as a contact lens. Each one is custom-made to fit perfectly over the visible portion of a tooth. This allows us to completely redesign the tooth's size, shape, and color to your liking. Veneers are crafted from dental porcelain, which is a material that is well-known for its durability and lifelike appearance. This versatile treatment can be used to correct a variety of issues, such as:
Chipped, cracked, or visibly damaged teeth.
Teeth with stubborn stains or dark discoloration.
Slightly gapped, crooked, or misaligned teeth.
Teeth that are small, misshapen, or worn-down.
What's the Process for Getting Veneers?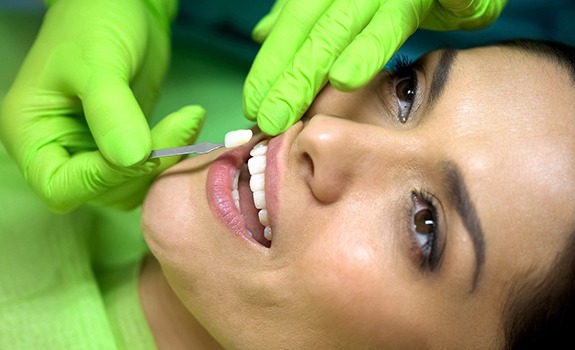 Once we've determined that veneers are a good choice for you, we'll prepare your teeth by removing a thin layer of enamel. Don't worry—this quick step is virtually painless and ensures that your veneers don't look bulky once they're in place. Then, we'll take a few digital impressions and send that information off to a dental laboratory, where they'll be used to create your veneers.
Since it can take a week or two to make your custom-made veneers, we'll cover your teeth with temporary veneers before you leave. These will help protect your teeth from damage and sensitivity until your next appointment. When we receive your permanent veneers, we'll call you back into the office for the last step. Your temporary veneers will be removed, and your beautiful, personalized permanent veneers will be securely bonded into place. After we make any final adjustments and ensure your bite is comfortable, you'll be ready to start enjoying the smile of your dreams!
What Are the Benefits of Veneers?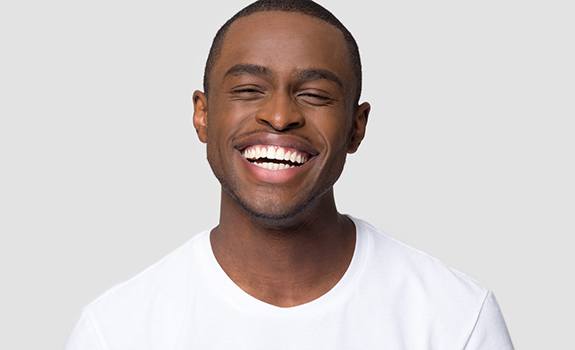 Nowadays, there are a variety of cosmetic dental treatments available to improve your smile. However, veneers offer a variety of advantages over other cosmetic options, like:
Correct several issues at once: Instead of undergoing numerous different procedures over a long period of time, veneers can effortlessly correct a variety of issues all at once.
Red carpet-ready results: Thanks to their dramatic results, veneers are a popular choice among celebrities like Morgan Freeman, Miley Cyrus, and Tom Cruise!
Long-lasting and easy to care for: Simple healthy habits such as regular brushing, flossing, and rinsing with mouthwash will help keep your new veneers looking just as flawless as the day you got them for many years to come!
You don't have to live with chipped, cracked, stained, or otherwise imperfect teeth if you don't want to. If you're ready to finally get the smile you've always wanted, call us today to schedule your consultation!
Understanding the Cost of Veneers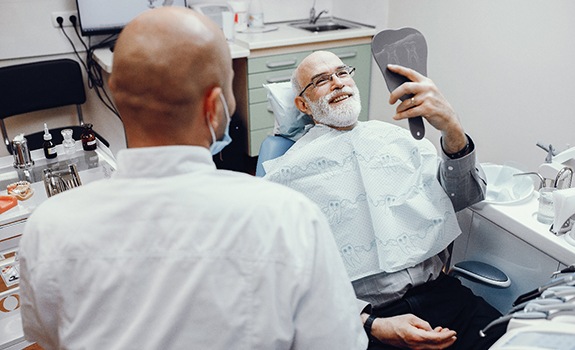 Like anything in life, you get what you pay for, and cosmetic dentistry is no exception. Veneers can easily be seen as an investment for your long-term smile, and going for cheaper options is rarely going to provide the best results. This is especially true if you intend on achieving the closest thing to a Hollywood appearance! With this in mind, it's equally important to make sure that you're choosing the best treatment based on your needs.
Which Cosmetic Dental Treatment Should I Choose?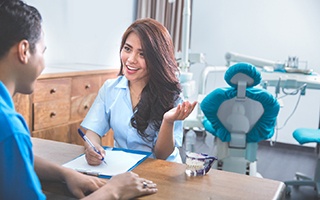 Cosmetic dentistry is truly an umbrella term that covers a wide variety of services, not only veneers. These procedures are designed to resolve many specific cosmetic imperfections. Some can even address multiple issues at the same time! To better understand which services work best for which cosmetic concerns, keep reading below.
Invisalign – With Invisalign, dramatic changes can be made to misaligned, crooked, rotated, and/or gapped teeth. However, the treatment can take several months to over a year depending on the condition of your teeth and be quite expensive.
Cosmetic Dental Bonding – Considered to be the cheapest cosmetic treatment you can complete, cosmetic dental bonding is ideal at addressing stains, chips, and cracks in teeth. However, it's not uncommon for this material to require touch-ups every few years.
Teeth Whitening – The fastest and least invasive option is teeth whitening, which removes tough stains from enamel. Whitening does not do anything to resolve the shape of teeth or any chips present in them.
Veneers – Also considered to be an expensive treatment, veneers do hide multiple imperfections at a time and can be completed in just two appointments, making them an incredibly popular cosmetic solution for those looking to makeover their smile quickly.
How to Make Veneers Affordable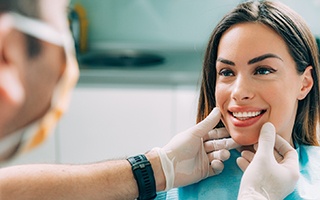 Since veneers are considered to be solely a cosmetic enhancement to teeth in almost all cases, dental insurance won't offer coverage for them. However, there are certain ways you can still make your dental costs friendly towards your budget.
For example, Dental Center of Lakewood is happy to perform a smile makeover consultation free of charge. This includes a consultation with one of our dentists, limited X-rays, and an evaluation of any existing restorations. It's a great way to better determine if veneers or another cosmetic treatment is right for you entirely risk-free.
Additionally, our office is happy to offer CareCredit, a third-party service that allows for monthly payments on dental care with little to zero interest attached. This is particularly ideal for cosmetic treatments which usually do not get coverage from insurance.
Of course, the best way to determine if veneers are right for you is to schedule a consultation with our office today. We'll do everything can to create a treatment plan that fits within your budget.
Veneers FAQs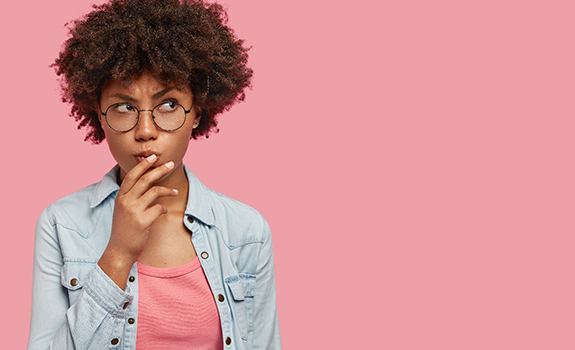 Before you commit to improving your smile with veneers, it's likely that you have a few questions that need to be answered. We'll be more than happy to walk you through the entire treatment process step-by-step and answer all your questions during your initial consultation. In the meantime, we've gathered some of the most common questions we get about veneers below so you can learn more about them. If you don't see the answers you're looking for or if you're ready to schedule your next appointment, don't hesitate to give us a call!
Are Veneers Permanent?
Veneers are made of strong, durable dental porcelain, so they can last for many years with the proper care. They aren't considered "permanent" because they will need to be replaced eventually. However, it is important to keep in mind that getting veneers is an irreversible process. Since a thin layer of enamel needs to be removed to place veneers and enamel does not grow back on its own, the altered tooth will always need to be covered by a veneer to keep it safe and strong.
Can I Drink Coffee or Wine with Veneers?
The dental porcelain that veneers are crafted from are stain resistant. This means you can proudly show off your beautiful smile while continuing to enjoy your favorite beverages! However, veneers are not "stain-proof." Overindulging in dark, acidic, or staining foods or drinks can discolor your veneers over time. To ensure your veneers stay dazzling for as long as possible, make sure to limit your intake of these items and practice excellent oral hygiene.
How Many Veneers Will I Need?
At Dental Center of Lakewood, we understand that no two smiles are exactly alike, which is why we don't offer "cookie-cutter" dentistry. If you choose to move forward with veneers, your treatment will be tailored to meet your specific needs and goals. While you could get a single veneer to improve a single tooth, we typically recommend getting veneers in pairs. We have found that getting veneers on the front two, four, six, or eight teeth tends to offer the most seamless results.
Do Veneers Feel Like Real Teeth?
Every veneer is carefully crafted to fit precisely on your teeth based on impressions of the area. In addition, dental porcelain is very smooth and won't irritate your gums or soft tissues, just like natural tooth enamel. The vast majority of patients report that their veneers feel completely natural inside their mouths, and after a few weeks, many say they forget they're even there as they eat and talk!
Can Anyone Get Veneers?
Thanks to modern dental techniques, technology, and materials, practically anyone can get veneers! However, you need to be in good oral health to be considered a good candidate. Issues like gum disease and teeth grinding can threaten the success of your veneers. Additionally, cavities and tooth decay will continue to get worse if they are simply covered by a veneer. If any of these problems are detected during your initial consultation, we can work with you to address them. Then, once your smile is healthy, we can move on to improving its appearance.
What Happens to the Teeth Under Veneers?
Contrary to popular belief, the process of getting veneers in Lakewood is minimally invasive. At Dental Center of Lakewood, we'll only remove a minimal amount of enamel, and the bonding material used to attach the restoration is completely safe. Rest assured - the procedure will not increase your risk of cavities since the prepared tooth will be covered by the veneer. Of course, you'll still need to practice good oral hygiene to prevent decay from affecting the underlying tooth. That means brushing twice a day, flossing daily, rinsing with an antiseptic mouthwash, and visiting our office regularly for a checkup and cleaning.
Do Veneers Give You a Lisp?
When you first get veneers in Lakewood, you may have a hard time pronouncing certain words. That's primarily because your tongue is not used to speaking with the restorations in place. Your slight lisp or speech impediment may be more noticeable when making the "s" and "v" sounds. Luckily, these alterations will go away as soon as you get used to talking with veneers. You can speed up this adjustment process by repeating difficult-to-pronounce words, reading aloud, and having more conversations with loved ones.
Can You Whiten Veneers?
If your veneers become stained, you'll need to have them replaced or shaded because whitening procedures do not have any effect on them. However, it's worth noting that whitening treatment will still affect the teeth around the veneers. As a result, the tone of your smile can become uneven if you whiten in the wrong order. That said, you should whiten your teeth first so your veneers can be color-matched to their brighter appearance.
Is It Painful to Get Veneers?
Before veneer placement, your mouth will be numbed to ensure you don't feel any pain during the procedure. You may feel some sensitivity and discomfort once your temporary veneers are attached. However, post-treatment discomfort is much more likely when multiple veneers are being placed. For instance, two to four veneers often cause little to no pain, while eight or more can lead to soreness in the gums and jaw. Luckily, you can manage this discomfort by taking prescription or over-the-counter pain medication as needed.

<