Veneers – Lakewood, Dallas, TX
Say Goodbye to Chips, Cracks, Stains, and More
Do you hide your smile in photos? Do you cover your mouth when you laugh or talk? If you're embarrassed by your damaged, discolored, or gapped teeth, you may find it more difficult to fully enjoy your favorite things in life. At Dental Center of Lakewood, we want to help you achieve a smile you can't wait to show off with veneers! This quick and easy treatment is the perfect solution for correcting numerous different dental flaws at once. If you're ready to say goodbye to chips, cracks, stains, and more, give us a call today and schedule a consultation with your Lakewood cosmetic dentist.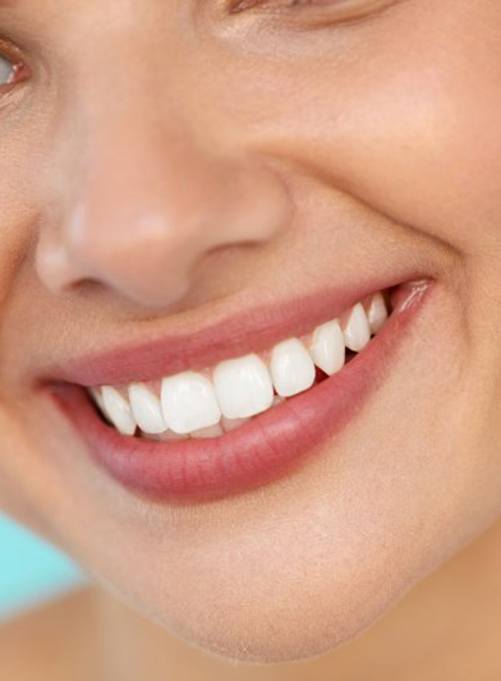 Why Choose Dental Center of Lakewood For Veneers?
Personalized Treatment for Your Unique Smile
Friendly and Experienced Dental Team
High-Quality Materials for Beautiful, Lasting Results
What Are Veneers?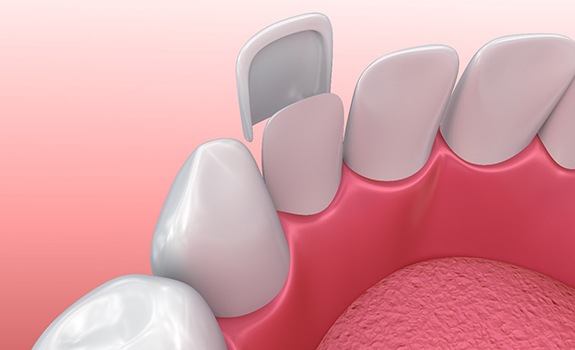 Veneers are tooth-shaped shells of dental porcelain that are about as thick as a contact lens. Each one is custom-made to fit perfectly over the visible portion of a tooth. This allows us to completely redesign the tooth's size, shape, and color to your liking. Veneers are crafted from dental porcelain, which is a material that is well-known for its durability and lifelike appearance. This versatile treatment can be used to correct a variety of issues, such as:
Chipped, cracked, or visibly damaged teeth.
Teeth with stubborn stains or dark discoloration.
Slightly gapped, crooked, or misaligned teeth.
Teeth that are small, misshapen, or worn-down.
What's the Process for Getting Veneers?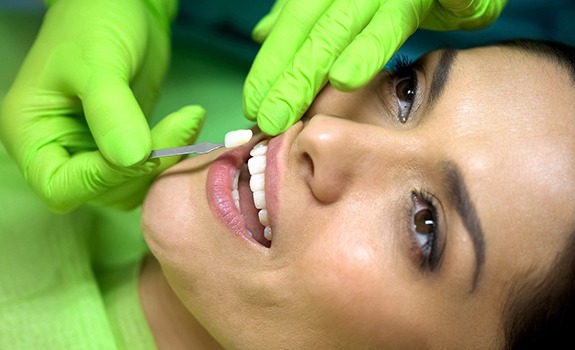 Once we've determined that veneers are a good choice for you, we'll prepare your teeth by removing a thin layer of enamel. Don't worry—this quick step is virtually painless and ensures that your veneers don't look bulky once they're in place. Then, we'll take a few digital impressions and send that information off to a dental laboratory, where they'll be used to create your veneers.
Since it can take a week or two to make your custom-made veneers, we'll cover your teeth with temporary veneers before you leave. These will help protect your teeth from damage and sensitivity until your next appointment. When we receive your permanent veneers, we'll call you back into the office for the last step. Your temporary veneers will be removed, and your beautiful, personalized permanent veneers will be securely bonded into place. After we make any final adjustments and ensure your bite is comfortable, you'll be ready to start enjoying the smile of your dreams!
What Are the Benefits of Veneers?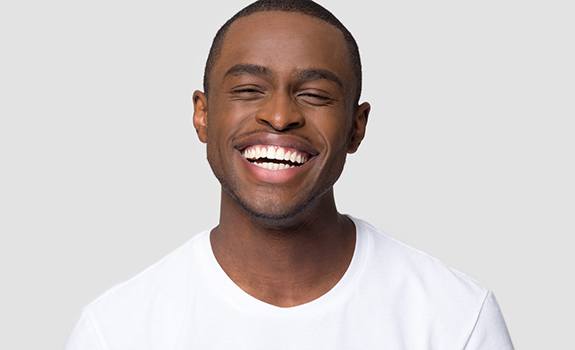 Nowadays, there are a variety of cosmetic dental treatments available to improve your smile. However, veneers offer a variety of advantages over other cosmetic options, like:
Correct several issues at once: Instead of undergoing numerous different procedures over a long period of time, veneers can effortlessly correct a variety of issues all at once.
Red carpet-ready results: Thanks to their dramatic results, veneers are a popular choice among celebrities like Morgan Freeman, Miley Cyrus, and Tom Cruise!
Long-lasting and easy to care for: Simple healthy habits such as regular brushing, flossing, and rinsing with mouthwash will help keep your new veneers looking just as flawless as the day you got them for many years to come!
You don't have to live with chipped, cracked, stained, or otherwise imperfect teeth if you don't want to. If you're ready to finally get the smile you've always wanted, call us today to schedule your consultation!