Emergency Dentistry – Lakewood, Dallas, TX
Relief is Right Around the Corner
If you wake up with a terrible toothache or accidentally break one of your teeth, what should you do next? Do you have a plan in place? If not, then we'll give you a simple one: call Dental Center of Lakewood. Our team is led by two dentists with decades of experience handling all types of urgent situations, and we can schedule you for a same-day appointment for emergency dentistry in Lakewood, Dallas, TX. We can get you out of pain and back to your life with minimal interruption.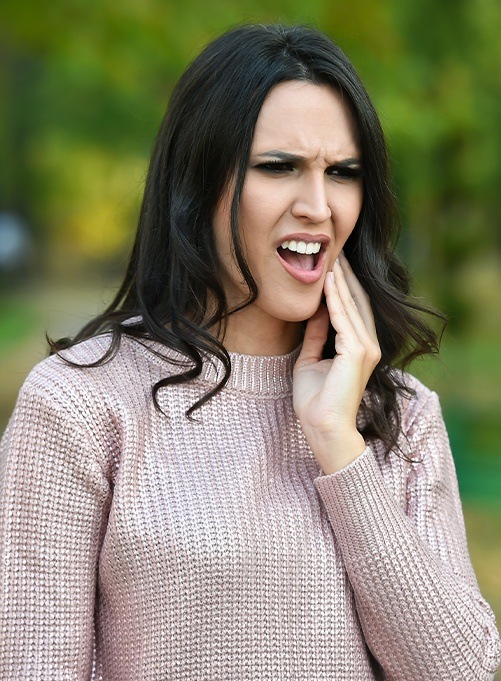 Why Choose Dental Center of Lakewood for Emergency Dentistry?
Same-Day Emergency Appointments Available
Multiple Sedation Options That Guarantee Patient Comfort
Friendly Team with Decades of Experience
How to Handle Common Dental Emergencies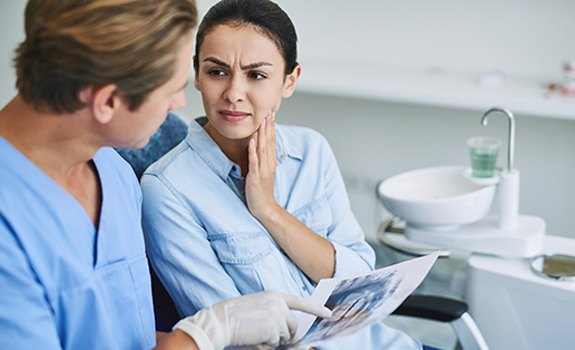 Rather than racing to your closest emergency room or urgent care clinic, it's always best to contact a dentist when your teeth or gums are concerned. Our team has the training and equipment to handle these types of issues that other medical facilities simply don't, meaning we'll be able to treat the root of the problem as well as your current symptoms. Before you're able to come see us, here are a few ways you can take control during some common dental emergencies.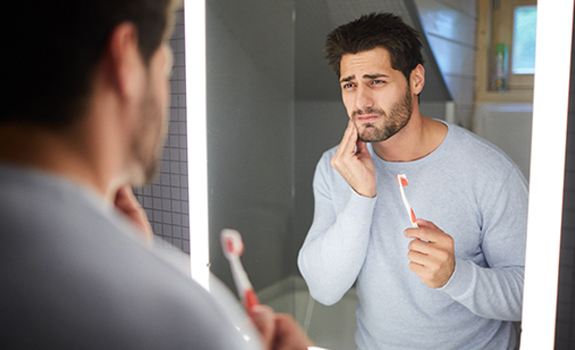 Toothaches
Rinse and floss around the hurting tooth to remove any food debris that might be stuck and causing the pain. Take an OTC medication if this doesn't help and apply a cold compress if there is any swelling. Swishing with warm saltwater a few times an hour can help temporarily relieve the discomfort as well.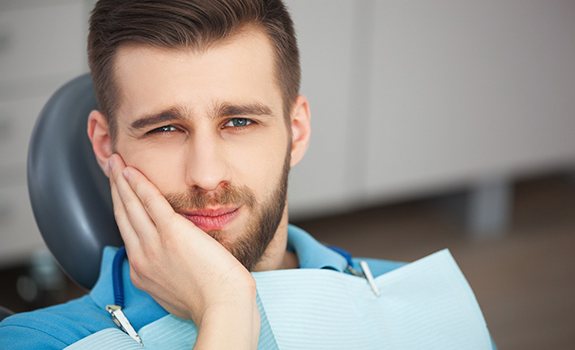 Chipped/Broken Teeth
Recover as many pieces of the tooth that you can, put them in a safe container, and remember to bring them to our dental office. Use a cold compress to reduce pain and swelling, and cover the remaining tooth with some sugarless gum so a rough edge can't accidentally injure the mouth or lips.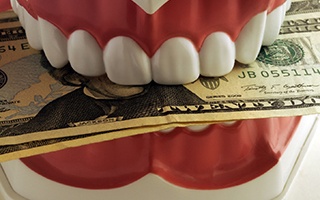 Knocked-Out Tooth
The sooner we're able to see you, the better chance we'll have of replanting the tooth. Ideally, you should make it to our dental office within an hour or so of the accident. Place the tooth either under your tongue or in a container of milk to keep it alive. Apply some gentle pressure using gauze or a clean rag to stop any bleeding.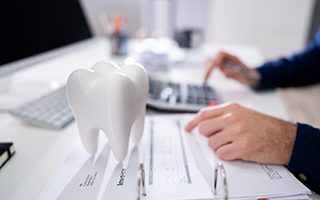 Lost Filling / Crown
Put the restoration back onto the tooth and avoid chewing with it until you can see us. A little dab of toothpaste can help it stay in place, but this is only a temporary fix. If the restoration is completely broken or lost, cover the tooth with some dental cement.
Learn More About How to Handle Common Dental Emergencies
Something Stuck Between The Teeth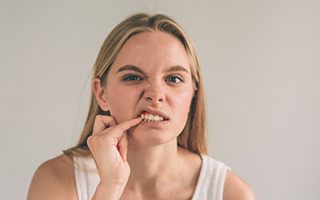 If you have a piece of food or small object lodged stubbornly between your teeth, don't use a toothpick or other sharp object to attempt to remove it! Instead, try to move the item with dental floss. If flossing doesn't work, try rinsing your mouth out gently with water several times until you can reach us for your emergency appointment.
Partially Dislodged Tooth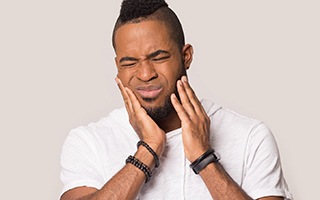 Teeth that have been partially knocked out of place need to be treated right away. Even if the tooth is still mostly in place, you need to come to our Dallas emergency dental office as soon as you can. Don't try to force your tooth back into place, as this could damage the remaining supportive tissues or make the problem worse. Avoid using your tooth and try to see us within an hour.
Dental infections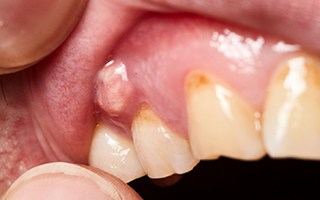 A bad toothache in Dallas is sometimes an indication of a serious dental infection. If you notice a small bump on your gums, discharge between your teeth, a darkening of the painful tooth, or swelling in your mouth or jaw, call us immediately. Not only will fast action help relieve your pain sooner, but it's essential for preventing the infection from spreading to your nearby teeth. We'll give you specific first aid instructions for your toothache over the phone, which will typically include rinsing your mouth out with warm saltwater several times.
Gum/Soft Tissue Injury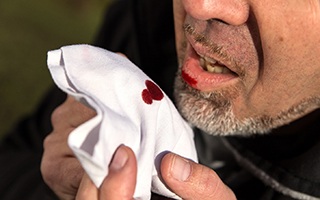 An injury to the soft tissues in your mouth, such as your lips, gums, or tongue, will often result in heavy bleeding. First, hold a clean piece of gauze or damp washcloth to the area and apply pressure to stop the bleeding. Then, you can carefully apply an ice pack or cold compress to the outside of your mouth to reduce swelling and numb pain. If you can't get the bleeding to stop, go directly to your local ER.
Jaw Pain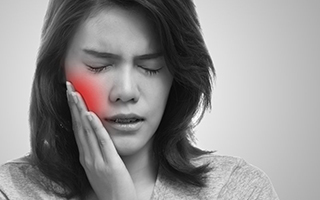 Aching or soreness in the jaw could be a warning sign of TMJ disorder or teeth grinding. In some cases, jaw pain could signify the advanced stages of gum disease. All these issues need to be treated right away and you can use an ice pack and OTC pain relievers to control your symptoms in the meantime. However, jaw pain that is especially severe could mean your jaw has been dislocated or broken. This type of dental emergency in Dallas needs to be treated at an emergency room first before we can assist your smile.
How to Prevent Dental Emergencies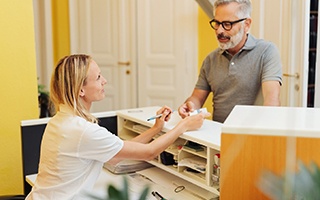 Not every broken, painful, or knocked out tooth can be avoided. However, there are several easy steps you can take to minimize your risk of a dental emergency. A few healthy habits and simple precautions can go a tremendously long way in protecting your pearly whites against infection and damage. After all, "an ounce of prevention is worth a pound of cure" when it comes to oral health! Here are the best ways to keep your smile happy, healthy, and intact for a lifetime.
Learn More About How to Prevent Dental Emergencies
Practice Great Dental Hygiene Habits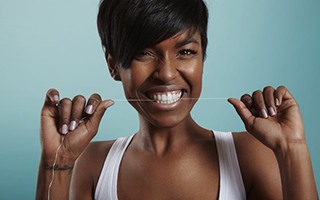 As mundane as it may sound, regularly brushing and flossing is one of the most effective ways to prevent dental emergencies in Dallas. When you don't clean your mouth every day, harmful plaque, bacteria, and tartar will begin to build up on your teeth and gums. This can quickly lead to enamel erosion, weakened teeth, and inflamed gums, which can eventually turn into serious infections that require a trip to your Dallas emergency dental office. Thankfully, you can keep your teeth strong and sparkling by brushing, flossing, and rinsing with mouthwash every day.
Maintain a Nutritious Diet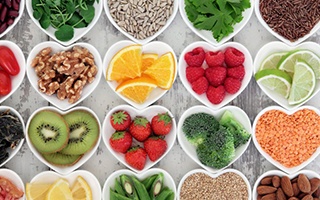 It's common knowledge that eating too many sugary foods will lead to a mouthful of cavities. Tooth decay weakens enamel and causes sensitivity, which boosts your risk of a serious dental infection that can only be treated by a root canal or extraction. What's more, acidic beverages like soda and sports drinks burn through enamel very quickly, eroding your enamel and increasing your risk of chipped or broken teeth. Not only will eating a healthier diet help you prevent these problems, but it can improve your oral health as well! Eating foods with calcium, phosphorus, and vitamin C can help your teeth stay healthy and strong.
Wear A Mouthguard
If you're active or enjoy playing sports, it's essential that you have a custom-made mouthguard. This small piece of safety equipment can make a huge difference in protecting your smile from serious damage while out on the court or field.
Similarly, if you have bruxism or grind your teeth at night, you need to wear a nightguard. Nightly teeth grinding will weaken your teeth, potentially chip them, and will often lead to tooth sensitivity, headaches, and jaw disorders. Just like a sports mouthguard, a nightguard will protect your teeth from injury when you need it most.
Use Tools to Open Packages, Not Your Teeth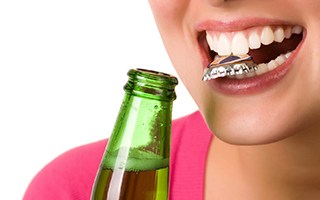 Do you sometimes open packages, containers, or bottles with your teeth? While it may seem like you're saving a few minutes in the moment, using your teeth as tools to open things can cost you a lot more time, money, and hassle if you suddenly break a tooth! Save yourself a trip to your Dallas emergency dentist by only using your teeth to rip, tear, and chew food.
Cost of Treating Dental Emergencies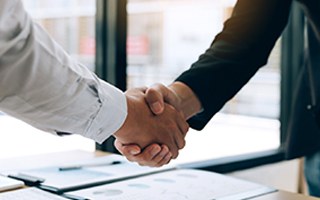 No two dental emergencies are exactly alike, and because of this, the treatment (and associated costs) are always different from patient to patient. We'll go over your options and give you a price estimate after we've evaluated you in person. We're happy to accept dental insurance and offer flexible financing to make this type of care easily affordable, so don't delay in seeking emergency care if you ever need it!
Learn More about the Cost of Treating Dental Emergencies
Understanding the Cost of Urgent Treatment
Whether you lose a crown, accidentally knock-out a tooth, or are suffering from a painful toothache, all dental emergencies have one thing in common: finding fast, effective relief is priority number one. So, it's not surprising that many patients don't think about the cost until after their pain-free smile is restored. At Dental Center of Lakewood, we want even the financial component of your treatment to be seamless, which is why we go above and beyond to help you understand the cost, work with your dental insurance, and extend financing options. Contact our office today to find out more!
What Factors Can Influence the Cost of Emergency Care?
Naturally, an emergency visit to your dentist is going to cost more than a traditional checkup and cleaning, but giving an exact price of restoring the function and aesthetic of your teeth is difficult since there is no all-encompassing answer. Fortunately, learning a few of the common factors can help you better understand the cost of treating your dental emergency, including:
Type of injury
Dental insurance
Financing options
Location of the dental office
Financial Options Available
Our team at Dental Center of Lakewood never wants cost to stand in the way of the high-quality dental care you deserve. For patients with a dental plan, we offer in-network savings through Delta Dental Premier and welcome out-of-network providers as well. Rest assured, we know how to maximize your benefits and will go above and beyond to lower your out-of-pocket costs. If you don't have an individual plan or one through your employer, then we can help you apply for low-to-no interest financing through CareCredit, which breaks up the cost into smaller, monthly chunks.
Importance of Scheduling a Consultation
Understanding the factors that influence the cost of treating a dental emergency is crucial for your oral health and your wallet. With that being said, at the end of the day, the most important thing is getting the treatment you need to restore your smile. That's why scheduling a consultation is so important! Before getting started on any treatment, our experienced team will complete a thorough dental exam, assess the condition of your teeth and gums, and form a recommendation based on their expertise. From there, we can file a claim on your behalf, apply any available benefits, and help you understand the cost then and there. That way, there are no surprises and you can just focus on getting the dental care you need, which is exactly the way it should be.
Whether you need immediate assistance or are simply looking for a dentist near you to be prepared, don't hesitate to contact our office! From there, our fantastic staff can help you with everything from answering a specific question to scheduling a same-day appointment.
Emergency Dentistry FAQs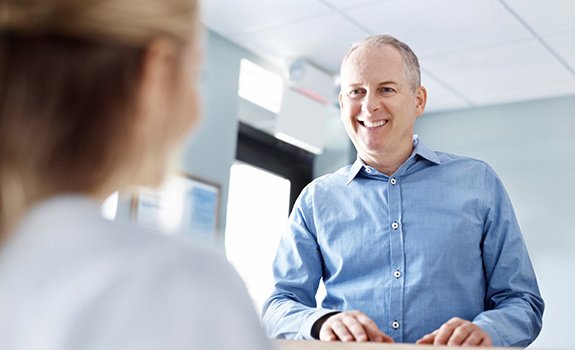 If you have never experienced a dental emergency before, you're certainly not alone. The good news is the Dental Center of Lakewood is happy to serve your needs and get you out of pain as soon as possible. If it's your first time dealing with dental discomfort or you aren't sure if what you're experiencing even classifies as a dental emergency, don't be afraid to call. In the meantime, we encourage you to give our FAQ page a read as your question may have already been answered!
What painkillers are good for tooth discomfort?
In most cases, ibuprofen is a reasonable option for addressing dental discomfort. Orajel can also help to alleviate pain, both in teeth and the gums. With that said, they are not permanent solutions for dental or oral pain. You'll still need to visit our office for professional care to ensure the underlying cause of your dental emergency does not worsen. Additionally, we advise against using aspirin as it can cause a burning sensation to oral tissue.
Are knocked-out baby teeth considered a dental emergency?
While baby teeth do fall out eventually, they are not meant to come out too soon. For example, if a baby tooth comes out due to forced trauma or decay, their remaining teeth can begin shifting into the open space. This puts their future oral development at risk. In the event your child's tooth is knocked out, apply pressure to their open socket using a gauze pad and ask them to hold it in place ahead of their emergency appointment.
Can I put off my dental emergency?
It's not advised to put off a dental emergency. Unlike other issues, such as a common cold or papercut, dental issues will not get better on their own. This goes for both damaged tooth enamel and dental discomfort, both of which can worsen without professional attention. Even if you aren't sure if what you're experiencing is a dental emergency, don't be afraid to call and set up an appointment.
What if I'm fearful of visiting the dentist?
We understand if you feel anxious about visiting the dentist, especially if you've had difficulty doing so in the past. At the Dental Center of Lakewood, we do everything we can to create a relaxing and welcoming office environment and cater to your family's specific needs. Of course, you can also take advantage of our office's nitrous oxide and oral conscious sedation services to help put you at ease.
What if I chip a tooth but there is no pain?
When a tooth is chipped but no pain is present, it's likely because the chip was not substantial enough to reach the nerve endings located at the center of the tooth. This means that the break may solely be cosmetic and can be addressed during regular business hours. You should still call us directly to set up an official appointment.