Dental Implants – Lakewood, Dallas, TX
A Permanent Solution to Tooth Loss
Ask any dentist around the world what they consider to be the best way to replace missing teeth, and they will all tell you dental implants. These prosthetics are practically indistinguishable from real teeth, and after getting them, you'll feel like your teeth never went missing in the first place. Thankfully, the team at Dental Center of Lakewood is ready to provide everything you need for this treatment so you can renew your smile and start enjoying it as soon as possible. To get started, contact us today to schedule a consultation to discuss tooth replacement with dental implants in Lakewood, Dallas, TX.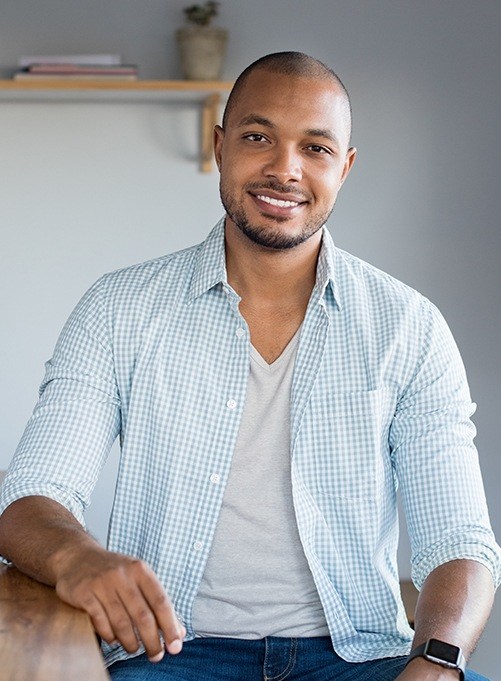 Why Choose Dental Center of Lakewood for Dental Implants?
Entire Procedure Completed Under 1 Roof
Able to Replace Any Number of Teeth for Life
100% Custom-Made Restorations
What is a Dental Implant?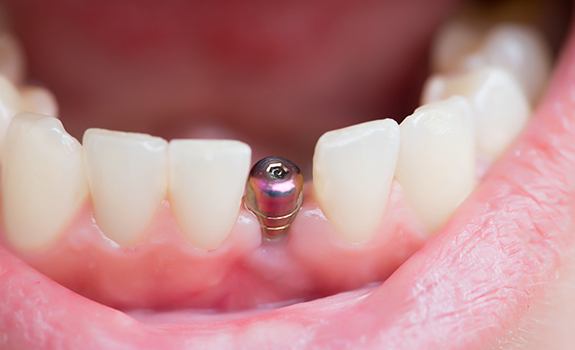 If you were to look at a dental implant, you'd probably think, "That doesn't look like a tooth!" That's because an implant is actually a prosthetic tooth root that is placed directly into the jawbone. Made of titanium, it fully bonds with the nearby bone, and this is used to support a crown, bridge, or denture up top. Right now, implants are the only procedure available that restores 100% of a tooth.
Benefits of Dental Implants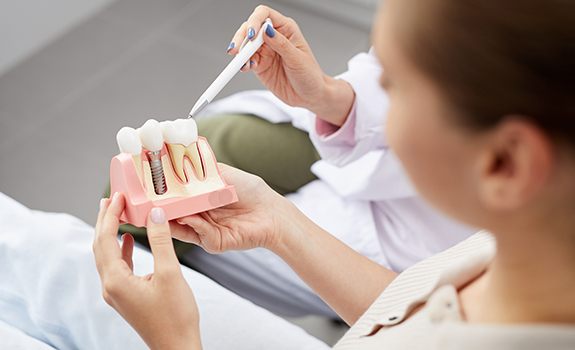 Security: Implants enable a patient to speak confidently and eat whatever they like because the teeth never shift or slip out of place.
Renewed Confidence: Each implant root is topped with a custom-made restoration, and because implants don't have obvious attachments, they blend into any smile to boost someone's appearance as well as their oral health.
Made to Last: With minimal maintenance (regular brushing, flossing, and dental checkups), an implant can be trusted to last for about 30 years, which is multiple times longer compared to traditional bridges and dentures.
Are Dental Implants Right For You?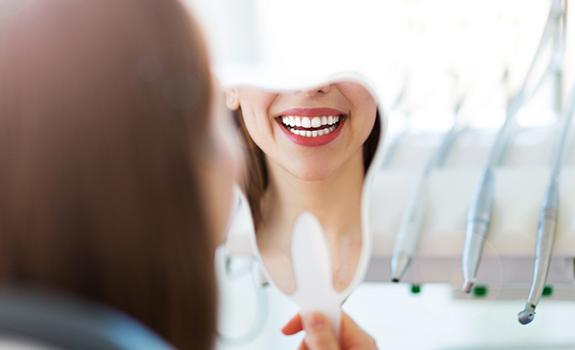 Any patient with missing teeth can be a good candidate for dental implants as long as they have a relatively healthy mouth and enough strong jawbone to hold the new roots. Once both of these have been confirmed (or achieved if a patient needs treatment), our team can help a patient select which type of implant procedure would best suit their needs.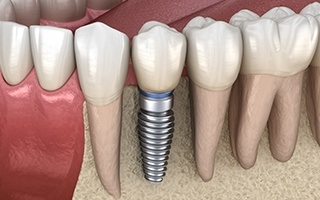 Missing Single Tooth
A lone space can be filled with a dental implant attached to an all-porcelain crown. This approach is actually more conservative compared to a dental bridge, as getting an implant doesn't require the teeth next to the missing one to be reshaped and filed down.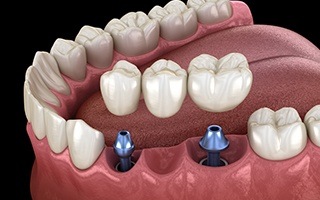 Missing Multiple Teeth
A patient doesn't have to get an implant for every single tooth that is missing. A bridge or partial denture can be secured to the jawbone using a small number of implants, bringing back several teeth at once.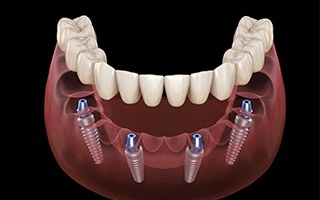 Missing All Teeth
Four to six implants can be used to attach a full denture inside the mouth and ensure it never moves out of place. We can provide a patient with a completely new prosthetic, or we can even upgrade someone's current dentures so they fit over implants and gain extra stability.
Start-to-Finish Convenience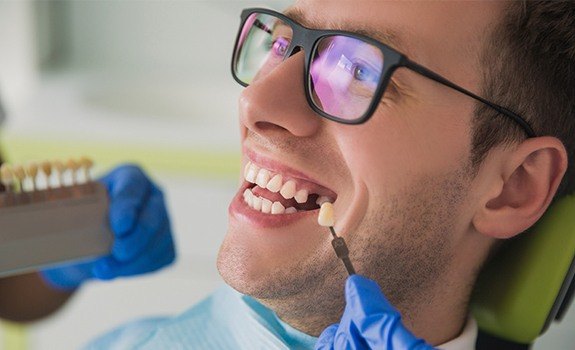 While other dental offices in the area will send you running all over Texas to have the implant procedure completed, we're able to handle everything ourselves at Dental Center of Lakewood. From your initial consultation to placing your new roots to attaching your new teeth, you'll work alongside our friendly and experienced team, helping you achieve gorgeous results while enjoying peace of mind throughout the entire process.
Understanding the Cost of Dental Implants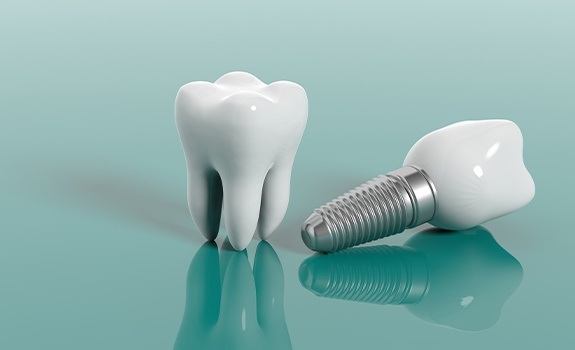 Every dental implant procedure we provide has to be customized to deliver the best possible outcome, and because of this, the final cost is always different from patient to patient. Generally, the more implants someone needs, the more expensive the procedure. Thankfully, implants are extremely durable and are considered one of the best long-term investments in dentistry because they have been shown to last decades longer compared to other replacements.
Preliminary Treatments & Dental Implant Surgery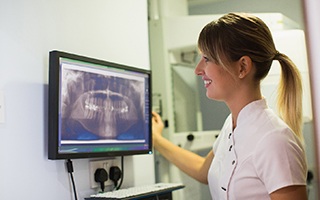 If you have gum disease, you'll need to receive treatment for it ahead of your dental implant placement. Additionally, if a tooth needs to be removed in order to place the implant or nearby teeth need removal to make room for a larger restoration (such as a bridge or denture), this will be done ahead of time. As a result, your costs will be higher. Anesthesia to numb any sensations felt during treatment also has its own fees. While surgery also has its own unique costs, we complete the whole process in-house, so you can expect your fees to be more compact, convenient, and easier to understand.
The Parts of Your Dental Implant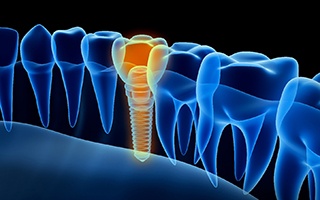 The more dental implants you need to rebuild your smile, the higher your overall costs will be. Furthermore, implants made from titanium vs. zirconia tend to have their own price tags as the materials are different. Much like cars or other highly complex products, certain models and makes of implants can last longer or function better than others. Our office remains committed to being as transparent as possible when it comes to the materials we use and the manufacturers we partner with.
Final Dental Implant Restoration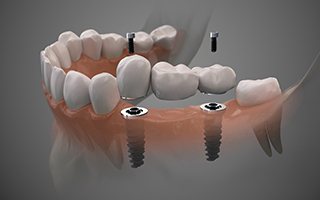 Dental implant treatment is highly customizable, and the restoration used to cover the implant holds no exception. There are four main types of restorations that can be used on implants, including crowns, bridges, partial dentures, and full dentures. The more implants you need to replace teeth, the more complex your restoration will be. This directly influences the cost of your treatment, especially if you have severe tooth loss. However, restorations designed to replace many teeth will not need the same number of implants to restore your smile (i.e. 4 to 6 implants can generally hold a full-arch implant denture.)
Does My Dental Insurance Cover Dental Implants?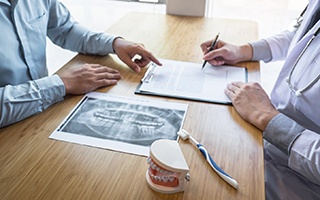 In most cases, dental implants are still considered "cosmetic" by insurance companies, making them ineligible to receive coverage. Of course, our team will always go over your plan in greater detail as we have years of experience in helping patients maximize benefits. For example, some portions of your care (such as the restoration or preparatory treatment to receive implants) can receive partial coverage.
Making Dental Implants Affordable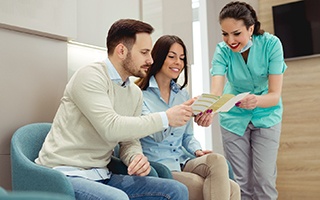 Even if you don't have dental insurance or your plan doesn't provide coverage, there are other options available to you worth exploring. For example, our office welcomes you to learn more about CareCredit, a third-party financing option that allows for monthly installments to be made on treatments like dental implants.