Traditional Braces – Dallas, TX
Get Your Smile Straight!
If you've long lived with crooked, gapped, or otherwise misaligned teeth, you know how dramatically that can affect your self-esteem. Thankfully, if you're around Dallas, traditional braces from Dental Center of Lakewood can do a lot to help you get your smile straight!
We know that braces can be a little bit intimidating, but they can make a massive difference in the quality of your smile. We know how to make orthodontics easy for our patients, so if you've ever been curious about what they could do for you, give us a call today!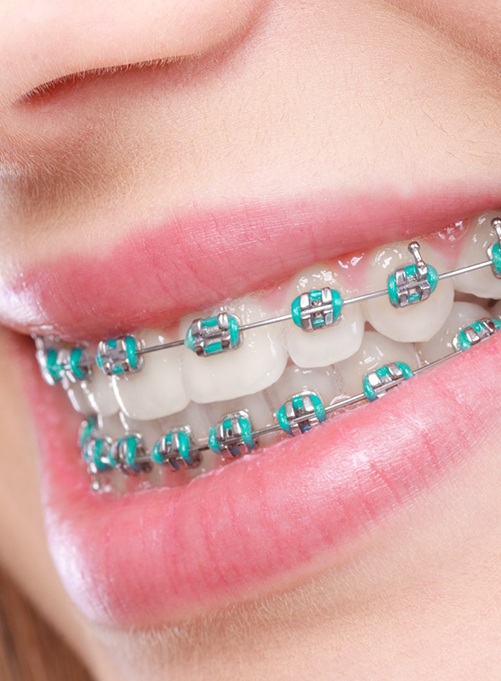 Why Choose Dental Center of Lakewood For Traditional Braces?
Incredibly Experienced Dental Team to Attend to your Needs
Advanced Technology to Make Orthodontics Comfortable and Efficient
Accepts a Variety of Dental Plans
How Do Traditional Braces Work?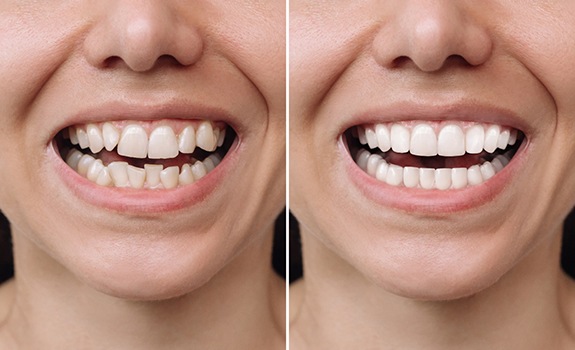 Misaligned teeth refer to those teeth that aren't perfectly in line with each other, that are tilted, or that are in the wrong location. Braces address these issues by attaching a wire to a system of brackets, which are in turn adhered to the teeth. This wire is slowly tightened every six to eight weeks, which gradually pulls the teeth into place. While result times vary heavily, the treatment is typically completed within one to three years.
What Orthodontic Issues Can Braces Fix?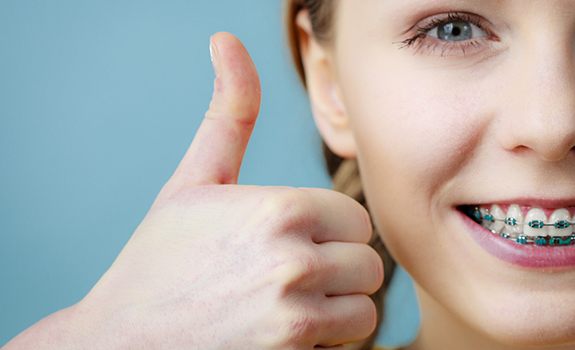 There are a variety of orthodontic issues that braces are designed to address, and each of them can impact both the look of your smile and your overall oral health. We'll go into greater detail when we meet you about the issues affecting you in particular, but before then, here's a general overview.
Bite Misalignment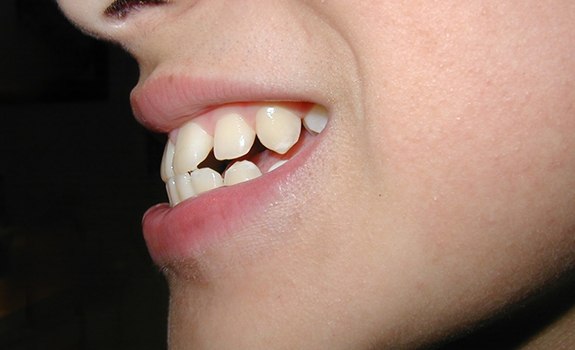 Ideally your top and bottom teeth should meet each other evenly, but this isn't always the case. Some people have an overbite, where the top teeth jut out too far, or an underbite, which is the opposite. If left untreated, these could cause jaw pain and joint dysfunction.
Braces on the top and bottom teeth can be connected by a rubber band, slowly drawing them together and repairing bite issues.
Crowded & Crooked Teeth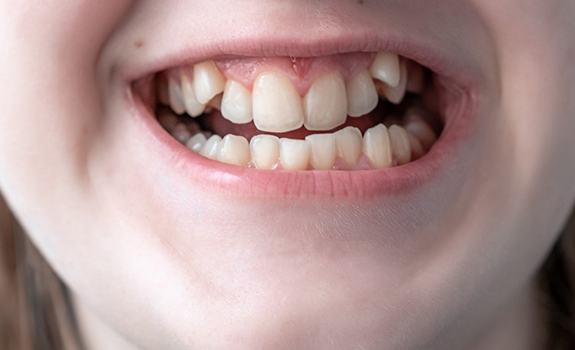 Teeth that are crowded together not only look crooked, they are also considerably harder to clean. As a result, they're more prone to disease. By slowly pulling these teeth apart your smile can be brought into alignment, eliminating this issue.
Gapped Teeth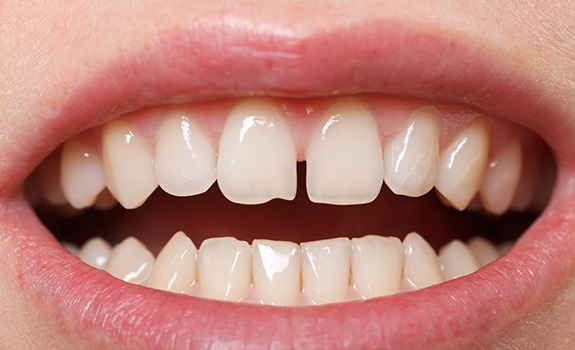 A set of gapped teeth can completely change the way that your smile comes off to others, and while they can become a signature look for some people, others don't really appreciate them. Just as braces can draw teeth apart, they can also bring them together, eliminating any large gaps in between.
Caring for Your Braces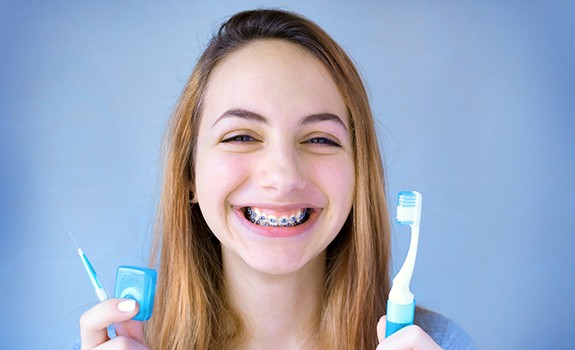 The biggest hurdle for people who wear braces is figuring out how to clean them effectively and efficiently. Brushing will be a little bit of a change, but taking the time to scrub the top and bottom of your brackets will become second nature very quickly. However, you may need to invest in other tools in order to floss your braces effectively. An interdental brush or a floss threader may help you to clean in between wires.
Cleaning is made easier by keeping with a good diet. Avoid sticky candies or anything else that could get gummed up in your braces, as well as anything hard that could damage them.
Finally, be sure to stick to your follow-up appointments with us, as we can check that your braces are in good condition. Remember, the better you maintain your braces, the faster you'll get the results you're looking for!
Understanding the Cost of Traditional Braces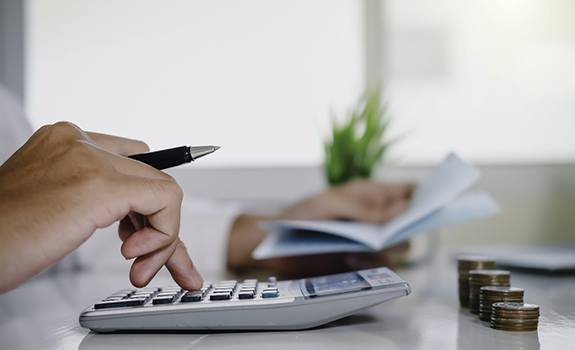 The cost of braces isn't one flat rate. It will vary for every patient because there are so many variables that need to be considered. Your dentist will outline your treatment costs during your consultation based on a variety of factors. Until then, here are some things for you to take into consideration about the cost of your treatment.
Factors That Affect the Cost of Traditional Braces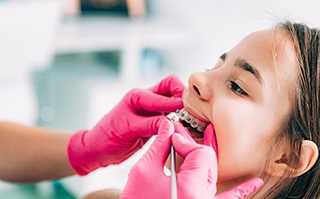 The cost of traditional braces will vary depending on a variety of factors. Here are the most prominent ones:
Severity of Misalignment: The more your teeth need to move, the longer your treatment is likely to take, so the cost will increase.
Length of Treatment: The longer that you wear braces, the more routine checkups, adjustments, and supplies that are needed. This will increase the cost of your treatment.
Age: Adults' teeth are more firmly set in the jawbone than they were in childhood and adolescence. This means that it takes more time to shift the teeth to their new locations, so the treatment cost may be a little higher.
Orthodontic Devices: Most patients with braces also need to wear other orthodontic supplies. This can include space maintainers, palatal expanders, elastics, headgear, and retainers.
Patient Compliance: If you aren't following the instructions of your dentist, your teeth aren't going to move around as planned. This can lengthen the time of your treatment.
Professional Braces vs. "DIY" Braces: Which Costs More?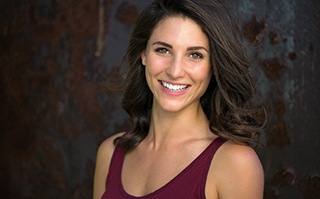 You may find it tempting to save money by opting for a "do-it-yourself" approach. There have been trends to try to straighten teeth using various household items and objects, like fishing lines, earring backs, orthodontic wax, superglue, rubber bands, paper clips, dental floss, and hair elastics. This may seem like it will do the trick, but the truth is that it could lead to disaster for your smile. Here are some of the risks they can cause:
DIY braces may be able to move your teeth, but they won't deliver long-term results like traditional braces. Traditional braces move your teeth precisely and slowly to ensure they don't shift back to their original places.
Wearing braces that aren't specially designed by a dental professional can damage your teeth, gums, and jawbone! This is because many household materials can cut into your gum tissue and create sores that increase your risk of infection.
When you don't have the guidance of a dental professional, you don't know if you are shifting your teeth in the desired directions. You could develop a bite issue. This can lead to difficult chewing and TMJ dysfunction.
In the end, you will likely end up spending more money overall if you try to correct your misaligned teeth yourself. If you accidentally harm your oral health, you will need to visit a dentist to correct the damage, and this could include needing traditional braces anyway.
Does Dental Insurance Cover Braces?
Some dental insurance plans include up to 50% coverage for orthodontic treatment. It is more common for them to be covered if you need them to correct dental issues rather than fixing aesthetic issues. It is also important to keep in mind that some plans only cover braces for patients who are younger than 18, so it's important to discuss this with your provider. If you have a Health Savings Account (HSA) or a Flexible Spending Account (FSA), you may be able to use them to partially pay for treatment. If you have any questions about dental insurance, don't hesitate to reach out.
Options for Making Braces Affordable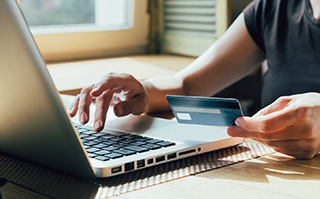 If you don't have dental insurance, this doesn't mean that there are no other options. We work with CareCredit – a third-party financing company that can split the cost of your treatment into manageable monthly installments with little to no interest. To learn more about CareCredit or if you need help with the application process, contact our office.
To find out the exact cost of your braces, schedule a consultation with us. We're eager to help you achieve a straighter smile!